AmpliTube 2 [Advanced Guitar Amp and FX Modeling Plug-in] Review



At last AmpliTube 2 got released... this plug-in has been fairly anticipated among the guitarists, mainly because its predecessor managed to become the most popular guitar amp and fx modeling plug-in in the industry. A lot of professionals have used it in their productions, and now with the redesigned and clearly improved modeling this second version should make its way into countless of music productions world-wide.

However, improvements don't come freely - one of the first things which is really apparent on this new version of AmpliTube is that it's a lot more processor expensive than the first version. The main reason for CPU hungriness of this plug-in is the new DSM technology IK Multimedia has developed. DSM should improve the realism of analog circuit modeling, and this has been achieved through non-linearity of the modeling process. Since analog circuit is known to have slightly fluctuating character, a precise "snapshot" model can't be made - instead, the modeling should be responsive and varying as is the analog circuit itself. This is the most groundbreaking step IK Multimedia has taken with AmpliTube 2. The realism of emulation has taken a leap forward, and a lot of the "defects" of the first AmpliTube have been fixed and enhanced on this new undertaking.

The realism of AmpliTube 2's modeling can be adjusted on preferences panel, where four different options can be ticked. To get a smoother and better sounding distorted tones one should enable oversampling on preamps (and if appropriate, one can even enable it on stomp boxes and power amplifiers). The fourth option is "High Resolution", which improves the dynamic response of the power amplifiers. Naturally all these options take up more CPU power, so one should preferably have a computer with approximately 1.5 GHz processor power. According to IK Multimedia the minimal requirements for the plug-in are following:

Macintosh® Minimal: 866MHz Power Macintosh® G4, with 512MB of RAM, Mac OS X 10.3 or later, 1024x768 screen thousands of colors.

Windows® Minimal: Pentium® III 1GHz/Athlon™ XP 1.33GHz with 256MB of RAM, Windows® XP, 1024x768 screen thousands of colors.

Another new feature of AmpliTube 2 is the ability to change the signal path. Actually there are two discrete signal paths, each containing its own stomp box, amplifier, cabinet and rack modules. Eight different presets allow choosing the routing of these signal paths. While one can simply have two separate setups with their own stomp, amp, cab & rack paths, it's possible to choose a lot more complicated signal paths as well. For example, one could have two separate stomp effects setups routed into one amplifier, which in turn has been routed into two cabinet setups after which the rack effects come into action.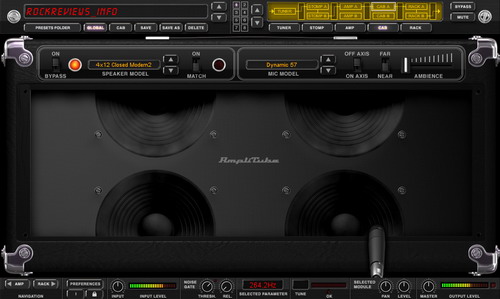 Some vintage snobs rightfully are against emulation, since it never achieves the level of authencity of the original. While this is true, one should perceive amp modeling with totally different mindset - for example, I see AmpliTube 2 rather as "all-in-one" guitar rig solution. It's just a means for achieving that guitar tone you're after like the other "tools" in the market (such as ordinary guitar amplifiers). While AmpliTube 2 doesn't offer perfectly accurate emulations, it does come really close (actually in a proper production use it will be hard if not impossible to tell whether AmpliTube 2 was used instead of a real amplifier). What's great about AmpliTube 2 is also the fact that it eases musicians' everyday life a lot by offering them a way to produce great tones painlessly. As with real life amplifiers, finding the right tone may be (and often is) quite time consuming even with AmpliTube... therefore getting the tone you're after can sometimes take a lot of time. However, once you've nailed it, you can easily recall it whenever you want (granted you have saved it).

The installation of this plug-in was quite a breeze. However, I've heard the horror stories about Syncrosoft's protection method, which has now made its way to this plug-in as well (it's mainly found on Steinberg's software). Fortunately enough I didn't have any complications thereof.

After my initial seven hour jam session with AmpliTube 2 I decided to record a short medley demonstrating some of the tones I have experimented with (it's the first medley clip). In three days time I decided to record another medley and this time 'round I also decided to provide a sample of the unprocessed sound (so you know how my guitar sounds without AmpliTube 2's processing). The "unprocessed sample" is a recording without AmpliTube 2's processing and features only my guitar recorded through a tube preamp.

By the way, the two samples I provide along this review feature only one mono track processed with AmpliTube 2 (they haven't been mastered nor processed with any other plug-ins in any way, so they showcase what one can achieve just by using AmpliTube 2). In future I might also include a clip demonstrating AmpliTube 2 in real production use, so you'll get the picture how it sounds after mixing and mastering (and in band context).

All in all, AmpliTube 2 takes quite a leap in guitar amp & fx modeling, and seems to be rather useful in the studio. Recording good sounding guitars has never been as easy as it is nowadays, and I'm sure that AmpliTube 2 makes its way into many professional recordings. I warmly recommend it to all guitarists no matter what style of music they're into - AmpliTube 2 is diverse enough to handle it all. The accompanying manual has been well-written, and I recommend reading it before rushing into using this program (it helps understanding all the different features of the program, and hence allows one to make better use of his/her AmpliTube 2).

- Markus (April 25th, 2006)


Samples:

AmpliTube 2 Medley [April 22nd, 2006]
Second AmpliTube 2 Medley [April 24th, 2006]
Unprocessed Guitar Sample [April 24th, 2006]


Get the Flash Player to see this player.

Link to IK Multimedia's Site